Armen Harutyunyan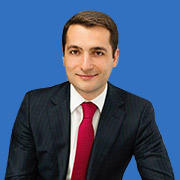 Senior Advisor Global Center of Technology, Innovation and Sustainable Development,UNDP
Armen Harutyunyan is the Director of Agroindustrial Complex at the Eurasian Economic Commission. He worked as the Senior Advisor at the Global Centre for Technology, Innovation and Sustainable Development in Singapore, Partnerships and International Finance Offices at the UN RC offices in Armenia and Deputy Minister of Agriculture of Armenia. Armen has been teaching Behavioral Economics and Data Science, and Food Economics.
Armen is an Academic Council Member of the Global FinTech Institute, Fellow at the Singapore University of Social Sciences. He holds a Master's Degree from University of Bristol and completed executive and certificated courses at University of California, Stanford, Harvard, London School of Public Relations and others.
He has been awarded medals for excellent cooperation with FAO, for investments into agriculture development in Armenia, for contribution to formation of the Eurasian Economic Commission. His primary areas of expertise and interest are technologies, digital transformation of economy, application of blockchain technology in international trade and behavioral economics. He is co-author of the Understanding Blockchain: guide to applying the technology for product traceability and opportunities for supply chains.

return
© 2020 Zhejiang University